AHGP Mississippi Civil War
---
Mississippi Soldiers and Sailors
Union and Confederate
According to the NPS Civil War Soldiers and Sailors summary, there were 903 persons serving the Union from Mississippi. 173,935 persons serving the Confederacy from Mississippi. And 887 Union African Americans or Colored Sailors from Mississippi. It has not been clarified IF the number of Colored Union Sailors from Mississippi is included in the number of persons serving the Union from Mississippi. Therefore, the total number of Union troops could possibly be increased to 1,710 in Total Union Mississippi Troops. OR the number of Union Troops given at 903 Total included the 887 Colored Union Sailors?

---
Freedmans Bureau and Slave Requirements for Conscription to the Confederacy
On March 3, 1864 the Freedman's Bureau was created. 10 days later on March 13th, 1864, President Jefferson Davis passed a bill which subjected slaves to military duty in the Confederacy.


Freedmans Bureau
Records of the Assistant Commissioner For the State of Mississippi Bureau of Refugees, Freedmen and Abandoned Lands, 1865 - 1869 include
Registers of Marriages of Freedmen
Registers of Indentures of Colored Orphans Aug. 1865 - May 1866

Search - Freedmans Bureau Mississippi Records

Book results - 'Freedmans Bureau History' Google books




What's New on WebRing | WebRing FAQ
Free genealogy webspace and blog | Need help? | Join WebRing




Powered by WebRing.
Mississippi Civil War Projects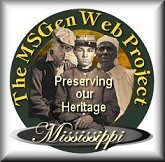 Submit Mississippi Records

This site is a member of the American History and Genealogy Project - Mississippi Civil War AHGP Project. If you have records to contribute to this project, please email ahgpmscivilwar@gmail.com OR you may submit your records to the USGenWeb MS Archives Project through the FORM at the link above, "Submit Mississippi Records".
---

ahgpmscivilwar@gmail.com
c. 2009 Mississippi Civil War American History and Genealogy Project