Mississippi Civil War
American History and Genealogy Project
MS AHGP Civil War Forum
MS AHGP Civil War Registration-Log In-Submit Records
Welcome to The American History and Genealogy Project (AHGP), an unincorporated not-for-profit network of independent sites devoted to History & Genealogy, and covering North American Countries and Territories. For more information about our group, including how you can join us, please see our about page. Scroll down to view adoptable county websites and pages. Sites marked with an (*) are AHGP Mississippi Civil War websites. This site is under construction.Other Mississippi Civil War Projects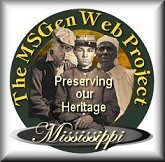 Submit Mississippi Records
This site is a member of the American History and Genealogy Project - Mississippi Civil War AHGP Project. If you have records to contribute to this project, please email ahgpmscivilwar@gmail.com OR you may submit your records to the USGenWeb MS Archives Project through the
FORM
at the link above, "Submit Mississippi Records".
American Local History Network
American History and Genealogy Project
---
USGenWeb MS Civil War Archives
A search of the USGenWeb MS Archives will yield over 148 files with the word "Civil War" in the file, however, a search of the "Military" directory does not include many other entries for the term, "Civil War".
---
MS AHGP Links
These links are offsite pertaining to Mississippi Civil War materials on the following subjects.
---
Mississippi Units by County of Origin
This site is wonderful in that the units are arranged by county and was created by Dan A. McCaskill. The following list of units by county was compiled from the records at the Mississippi State Department of Archives and History and H. Grady Howell's "For Dixie Land I'll Take My Stand". Units in blue are linked to sites with muster rolls. If you see any errors, please email: Dan A. McCaskill danmccas@tecinfo.com .
Page 1
Page 2
Counties in Mississippi
Links to county MS Civil War AHGP websites will become active, as each county in the MS Civil War American History and Genealogy Project is
adopted.
Battles in Mississippi
Civil War Battles took place in the following counties: Warren, Hinds, Alcorn, Prentiss, Union, Tishmingo, Claiborne, Jackson, Lauderdale, Chickasaw, Lee

Alcorn - Cornith October 3-4 1862; Cornith April 29 - June 30, 1862
Chickasaw - Okolona
Claiborne - Grand Gulf, Port Gibson,
Hinds - Big Black, Bakers Creek, Raymond, Jackson, Champion Hill
Jackson - Jackson
Lauderdale - Meridian
Lee - Tupelo
Prentiss - Brices Crossroads
Tishmingo - Cornith April 29 - June 30, 1862
Union - Brices Crossroads
Warren - Big Black, Vicksburg, Snyders Bluff
16 Battles took place during the Civil War in Mississippi - and MS Troops were involved in over 700 skirmishes or military engagements.
Battle Map - Counties involved - WebRing created 7/10/2000 Mississippi Civil War hosted by Mississippi Heritage Resources Preservation and Education League,MsHRPEL; and Ms. ALHN.
Mississippi Unit Histories - Mississippi Division, Sons of Confederate Veterans: Infantry, Calvary, Artillery.
History Sites Mississippi Civil War Message Board
The American Civil War Homepage
---
*MS Civil War Resources - Mississippi Libraries and Library resources specific to the Civil War in Mississippi.
Mississippi Soldiers and Sailors
Union and Confederate
According to the NPS Civil War Soldiers and Sailors summary, there were 903 persons serving the Union from Mississippi. 173,935 persons serving the Confederacy from Mississippi. And 887 Union African Americans or Colored Sailors from Mississippi. It has not been clarified IF the number of Colored Union Sailors from Mississippi is included in the number of persons serving the Union from Mississippi. Therefore, the total number of Union troops could possibly be increased to 1,710 in Total Union Mississippi Troops. OR the number of Union Troops given at 903 Total included the 887 Colored Union Sailors?
---
Freedmans Bureau and Slave Requirements for Conscription to the Confederacy
On March 3, 1864 the Freedman's Bureau was created. 10 days later on March 13th, 1864, President Jefferson Davis passed a bill which subjected slaves to military duty in the Confederacy.
Freedmans Bureau
Records of the Assistant Commissioner For the State of Mississippi Bureau of Refugees, Freedmen and Abandoned Lands, 1865 - 1869 include
Registers of Marriages of Freedmen
Registers of Indentures of Colored Orphans Aug. 1865 - May 1866
Search
- Freedmans Bureau Mississippi Records
Book results - 'Freedmans Bureau History' Google books

*Museum of the Confederacy - Index to Archives, with Mississippi details.
Welcome to The American History and Genealogy Project (AHGP), Mississippi Civil War website. Most counties listed below are adoptable. A few AHGP Mississippi Civil War County sites have been adopted. If you are a county organizer and your link does not appear here, please email: ahgpmscivilwar@gmail.com for your listing. For more information about our group, including how you can join us, please see our about page.
County
Date
Created
Parent County
County
Seat
Adams
1799
Natchez District
Natchez
Alcorn
1870
Tippah / Tishomingo
Corinth
Amite
1809
Wilkinson
Liberty
Attala
1833
Choctaw Cession of 1830
Kosciusko
Benton
1870
Marshall / Tippah
Ashland
Bolivar
1836
Choctaw Cession Of 1830
Cleveland
Calhoun
1852
Chickasaw / Lafayette / Yalobusha
Pittsboro
Carroll
1833
Choctaw Cession
Carrollton
Chickasaw
1836
Chickasaw Cession of 1830
Houston
Choctaw
1833
Choctaw Cession
Ackerman
Claiborne
1802
Jefferson
Port Gibson
Clarke
1833
Choctaw Cession of 1830
Quitman
Clay
1871
Chickasaw / Lowndes /Monroe / Oktibbeha
West Point
Coahoma
1836
Chickasaw Cession of 1836
Clarksdale
Copiah
1823
Hinds
Hazlehurst
Covington
1819
Lawrence / Wayne
Collins
DeSoto
1836
Indian Lands
Hernando
Forrest
1906
Perry
Hattiesburg
Franklin
1809
Adams
Meadville
George
1910
Greene / Jackson
Lucedale
Greene
1811
Amite / Franklin / Wayne
Leakesville
Grenada
1870
Carroll/Yalobusha /Montgomery/Tallahatchie/Webster/Choctaw
Grenada
Hancock
1812
Mobile District
Bay Saint Louis
Harrison
1841
Hancock / Jackson
Gulfport
Hinds
1821
Choctaw Cession of 1820
Jackson
Holmes
1833
Yazoo
Lexington
Humphreys
1918
Holmes / Washington /Yazoo / Sunflower
Belzoni
Issaquena
1844
Washington
Mayersville
Itawamba
1836
Chickasaw Cession of 1832
Fulton
Jackson
1812
Mobile District
Pascagoula
Jasper
1833
Indian Lands
Bay Springs
Jefferson
1799
Natchez
Fayette
Jefferson Davis

1906
Covington / Lawrence
Prentiss
Jones
1826
Covington / Wayne
Laurel / Ellisville
Kemper
1833
Choctaw Cession of 1830
De Kalb
Lafayette
1836
Chickasaw Cession
Oxford
Lamar
1904
Marion / Pearl River
Purvis
Lauderdale
1833
Choctaw Cession of 1833
Meridian
Lawrence
1814
Marion
Monticello
Leake
1833
Choctaw Cession
Carthage
Lee
1866
Itawamba / Pontotoc
Tupelo
Leflore
1871
Carroll / Sunflower / Tallahatchie
Greenwood
Lincoln
1870
Franklin / Lawrence /Copiah / Pike / Amite
Brookhaven
Lowndes
1830
Monroe
Columbus
Madison
1828
Yazoo
Canton
Marion
1811
Amite / Wayne / Franklin
Columbia
Marshall
1836
Chickasaw Cession of 1832
Holly Springs
Monroe
1821
Chickasaw Cession of 1821
Aberdeen
Montgomery
1871
Carroll / Choctaw
Winona
Neshoba
1833
Choctaw Cession of 1830
Philadelphia
Newton
1836
Neshoba
Decatur
Noxubee
1833
Choctaw Cession of 1830
Macon
Oktibbeha
1833
Choctaw Cession of 1830
Starkville
Panola
1836
Chickasaw Cession of 1830
Batesville
Pearl River
1890
Hancock / Marion
Poplarville
Perry
1820
Greene
New Augusta
Pike
1815
Marion
Magnolia
Pontotoc
1836
Chickasaw Cession of 1832
Pontotoc
Prentiss
1870
Tishomingo
Booneville
Quitman
1877
Panola / Coahoma
Marks
Rankin
1828
Hinds
Brandon
Scott
1833
Choctaw Cession of 1832
Forest
Sharkey
1876
Warren / Washington / Issaquena
Rolling Fork
Simpson
1824
Choctaw Cession of 1820
Mendenhall
Smith
1833
Choctaw Cession of 1830
Raleigh
Stone
1916
Harrison
Wiggins
Sunflower
1844
Bolivar
Indianola
Tallahatchie
1833
Choctaw Cession of 1830
Charleston
Tate
1873
Marshall / Tunica / DeSoto
Senatobia
Tippah
1836
Chickasaw Cession of 1832
Ripley
Tishomingo
1836
Chickasaw Cession of 1832
Iuka
Tunica
1836
Chickasaw Cession of 1832
Tunica
Union
1870
Pontotoc /Tippah
New Albany
Walthall
1910
Marion / Pike
Tylertown
Warren
1809
Natchez District
Vicksburg
Washington
1827
Warren / Yazoo
Greenville
Wayne
1809
Mississippi Territory's "Old"Washington County
Waynesboro
Webster
1874
Montgomery / Chickasaw /Choctaw / Oktibbeha
Walthall
Wilkinson
1802
Adams
Woodville
Winston
1833
Choctaw Cession of 1830
Louisville
Yalobusha
1833
Choctaw Cession of 1830
Water Valley
Yazoo
1823
Hinds
Yazoo City